Trens elegantes transportam turistas de volta à "golden age" em viagens que valem tanto pelo destino como pela experiência
Com as viagens ferroviárias mais glamourosas do mundo, a viagem importa tanto quanto, senão mais do que o destino. Não há nada como embarcar em um trem para explorar um novo destino, especialmente se houver paradas incríveis e muitas amenities ao longo do caminho.
Mesmo os viajantes acostumados a viajar em primeira classe se divertem com os luxos do dia inteiro oferecidos pelas experiências mais emblemáticas dos trens. Sentado em um confortável assento de janela, coquetel na mão, enquanto olha para um fluxo infinito de lindas paisagens, é uma emoção única que nunca sai de moda.
Aqui estão alguns dos passeios de trem mais luxuosos ao redor do mundo; todos a bordo para um pouco de aventura.
Europa | Reino Unido
Belmond tem sido pioneira em viagens ferroviárias de luxo por mais de quatro décadas. Seu portfólio, que se estende por 24 países, inclui seis ofertas de trens, com destaque para a lendária Veneza Simplon-Orient-Express. Os hóspedes refazem os passos de seus antecessores – há um código de vestuário e muitos comissários de bordo com luvas brancas em uma viagem entre Veneza, Itália e capitais da cultura clássica como Berlim e Paris; novos pontos de embarque foram acrescentados em Roma, Florença, Genebra, Bruxelas e Amsterdã. Carros finamente restaurados remontam aos anos 20 e 30, com tecidos sumptuosos e acessórios antigos. O trem ostenta três vagões de restaurante, todos datados dos anos 20, cada um com toques memoráveis. Sentados na carruagem mais antiga do trem estão três novas Grand Suites concebidas pelo renomado estúdio de design de interiores Wimberly Interiors. Cada suíte possui banheiros privativos com chuveiros, camas de casal e uma área de estar com aquecimento por baixo do piso. Comodidades adicionais incluem um comissário de bordo pessoal 24 horas, Champagne livre, jantar dentro das suítes e transfers privados.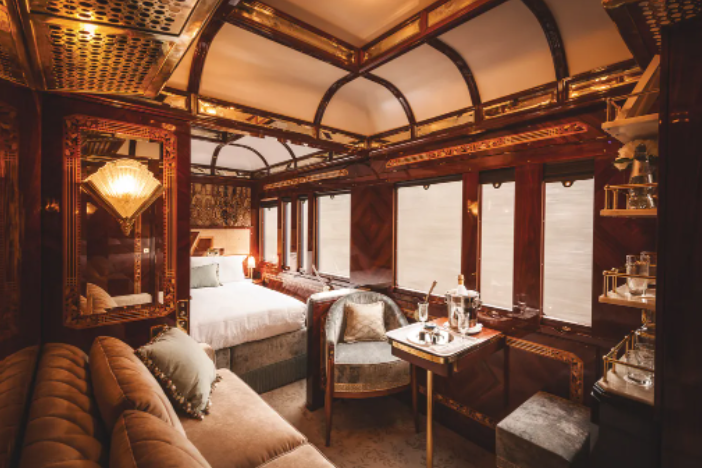 Belmond's British Pullman recebeu novos ares do badalado e influente cineasta Wes Anderson. Prestando homenagem tanto à época dourada do cinema quanto às viagens, Anderson reimaginou a histórica carruagem Cygnus do trem – com o nome do Deus grego do Equilíbrio -, melhorando a preservação histórica do espaço inspirado na Art Deco- com sua assinatura de linhas simétricas, paletas de cores únicas e estilo Art Nouveau. Os hóspedes escolhem entre uma mesa na carruagem principal ou um coupé privado para uma experiência elevada, completo com copiosas quantidades de Champagne Veuve Clicquot, menus de jantar exclusivos e louças e copos exclusivamente selecionados por Anderson. O Pullman oferece uma série de viagens de um dia durante todo o ano, partindo convenientemente da Estação Victoria, em Londres.
Como a jóia da coroa do sistema ferroviário de Portugal, O Trem Presidencial tem recebido dignitários e chefes de estado globais por mais de um século. Construído em 1890, serviu uma vez como o Trem Real Português, transportando dignitários como a Rainha Isabel II e o Papa Paulo VI. Os passageiros atuais sentem-se como se estivessem em uma cápsula do tempo, pois o trem foi magnificamente restaurado em 2010; o mobiliário e o charme que o tornou icônico permanece intacto e desde então tem sido exibido no Museu Ferroviário Nacional como a peça mais emblemática da história ferroviária de Portugal. Os destaques gastronômicos são uma arte à parte, já que chefs com estrelas Michelin emparelham pratos com finos vinhos portugueses.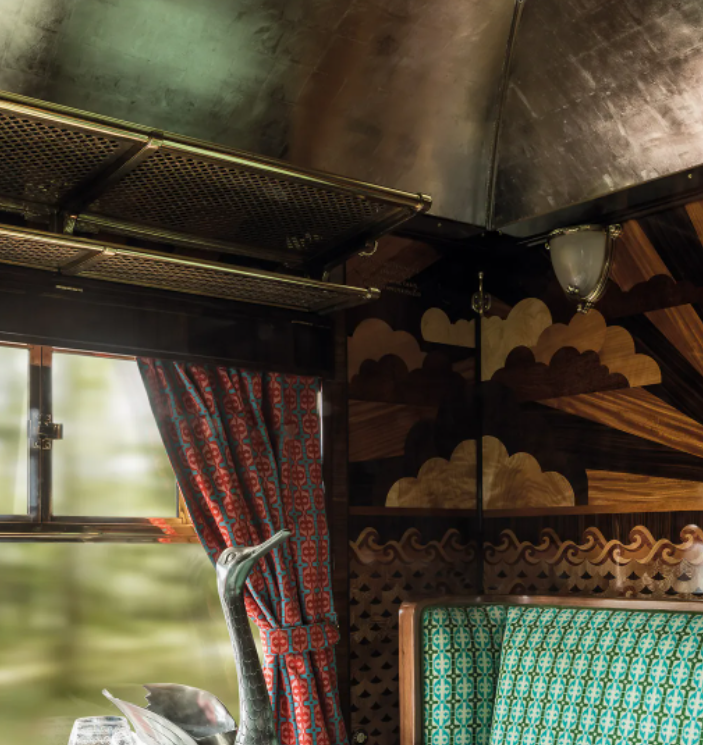 Ásia
Belmond's Eastern & Oriental Express apela para aqueles que anseiam pelo romance e nostalgia de uma era passada, quando a melhor experiência de viagem era a de um ritmo sem pressa. Os viajantes entram em um mundo de glamour clássico enquanto navegam por maravilhas históricas e cidades movimentadas em viagens multinacionais por Bangkok, Cingapura e Kuala Lumpur. Além das acomodações de luxo com painéis de cerejeira e olmeiro, tecidos finos e toques vintage, os destaques incluem serviço de comissários de bordo, refeições gourmet e excursões envolventes em cada parada. Os hóspedes podem desfrutar de uma massagem nos pés no carro do salão, depois passear até o animado piano bar ou o elegante carro de observação para tomar um coquetel enquanto desfrutam de vistas panorâmicas do pôr-do-sol.
O principal fornecedor mundial de viagens ferroviárias de luxo de longa distância, Golden Eagle Luxury Trains oferece acesso a alguns dos mais magníficos, mas raramente visitados, locais do mundo antigo. Quatro novas viagens estão sendo lançadas em 2022, incluindo duas que são inteiramente movidas a vapor. Mas é o Golden Eagle's Trans-Siberian Railway que recebe a maior parte da atenção; uma das grandes viagens de trem do mundo atravessa o coração da Rússia, conectando o leste com o oeste. Com 9.288 quilômetros de extensão, é a ferrovia de serviço único mais longa do mundo, atravessando oito fusos horários à medida que avança de Moscou para Vladivostok. Luxuosas suítes e cabines históricas proporcionam um cenário fantasioso para todo o conforto do que se poderia esperar enquanto se atravessa o maior país da Terra. Os patronos podem passar o tempo tomando aulas de russo ou dançando para um pianista ao vivo.
Desde seu lançamento em 2013 como o primeiro trem de luxo do Japão, o Cruise Train Seven Stars se tornou uma das experiências de viagem de luxo mais procuradas do país. O trem, que atravessa a icônica ilha de Kyushu, tem apenas sete vagões para 30 pessoas, e os clientes devem entrar em um processo de loteria para garantir um bilhete. No interior, os interiores celebram os artesãos japoneses com cores ricas, painéis de madeira e telas treliçadas. Itinerários de vários dias atravessam cinco das prefeituras de Kyushu, com vistas costeiras deslumbrantes e experiências culturais imersivas. Os passageiros bebem coquetéis no bar do piano, depois decampam até o vagão-restaurante para refeições gourmet elaboradas com ingredientes sazonais.
Com rotas entre Kyoto e outras cidades japonesas, o Twilight Express Mizukaze da JR West oferece uma experiência de viagem única. Gostando de um hotel de hoje rolando pela bela paisagem japonesa, o Twilight Express deixa seus hóspedes de molho em uma banheira de mármore enquanto faz zoom através de destaques como a Ponte Akashi Kaikyo (a mais longa ponte suspensa do mundo), o sereno Parque Nacional Setonaikai, e a deslumbrante Costa de Orii. No lado culinário, uma equipe de chefs japoneses de alto nível prepara um menu convidativo que reflete as regiões por onde passa o trem.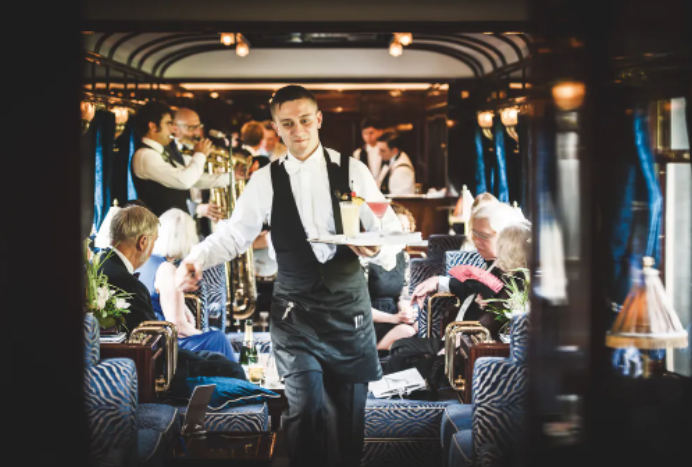 África
Visitantes bem conduzidos da África Austral embarcam na Rovos Rail para viajar de Victoria Falls para a África do Sul em alto estilo. Nove viagens com duração de 48 horas a 15 dias são oferecidas; os lindos trens reconstruídos transportam um máximo de 72 pessoas em 36 suítes soberbamente designadas e também estão disponíveis para fretamento. O safári de golfe de nove dias percorre o nordeste da África do Sul, com muitas oportunidades de jogo para os golfistas mais exigentes, juntamente com uma ampla visão de jogo. A derradeira experiência de Rovos Rail vem através da Trilha dos Dois Oceanos de 15 dias, que percorre 4.300 quilômetros de costa a costa através do continente desde a capital tanzaniana de Dar es Salaam até a cidade angolana do Lobito. Os passageiros se vestem para combinar com a formalidade do ambiente – pense na porcelana fina, no linho e na prata. Completando a atmosfera atemporal, não há rádios ou televisores a bordo.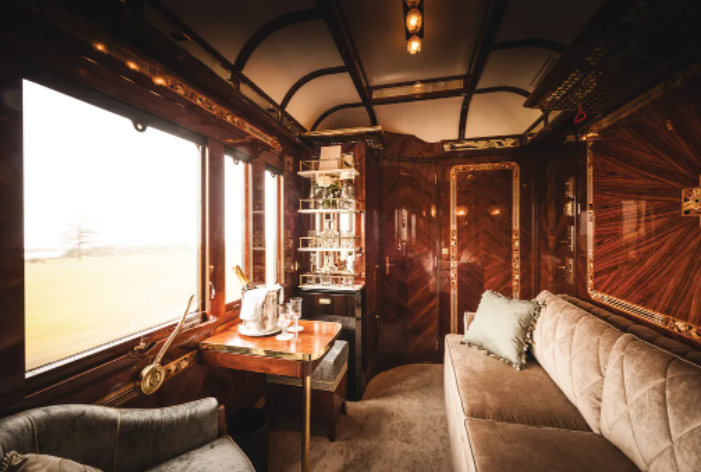 América do Norte
A linha de trem de luxo mais decorada do Canadá, o Rocky Mountaineer, lançou sua primeira rota nos Estados Unidos. Além de suas três rotas ligando Vancouver às cidades canadenses das Rochosas de Banff, Lago Louise e Jasper, a mais nova oferta viaja entre Denver e Moab, Utah. Conhecida como "Rochosas às Rochas Vermelhas", a viagem de dois dias passa por vastos desfiladeiros, arcos naturais e cativantes hoodoos. Espaçosos vagões de trem em forma de vidro proporcionam um ambiente confortável para se ter um cenário de tirar o fôlego, e os convidados mordiscam as criações culinárias inspiradas nas regiões de passagem. Para uma experiência de viagem elevada, os clientes nas rotas canadenses podem optar pelo GoldLeaf Service, apresentando um ônibus bilevel com janelas de grandes dimensões e uma plataforma de visualização ao ar livre.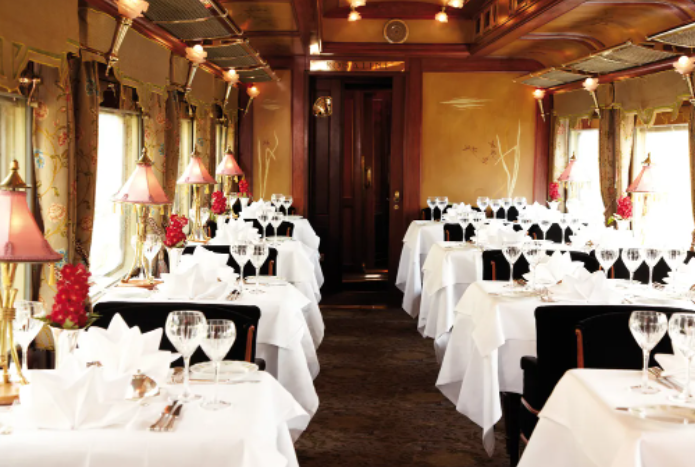 Austrália
Com sua ousada locomotiva vermelha e branca levando convidados para aventuras no Outback por pouco menos de um século, The Ghan é um ícone australiano. Viajando entre a cidade sul australiana de Adelaide e Darwin no Território do Norte, o motivo do trem honra suas travessias no deserto e é uma ligação com os cameleiros afegãos que chegaram à Austrália na década de 1830. Estes pioneiros do deserto foram imortalizados em 1929 quando o primeiro trem a vapor, chamado The Afghan Express, logo se abreviou para The Ghan viajou para o norte de Adelaide até o coração do Outback. Nos anos 40, The Ghan transportou militares para a Segunda Guerra Mundial e, nos anos 70, tornou-se crítico para a mineração, transporte e agricultura. Hoje, o trem viaja entre Adelaide e Darwin como uma experiência de três ou quatro dias, tudo incluído; ele pode alcançar até um quilômetro de comprimento na estação alta com até 300 convidados a bordo. O cardápio conta a história do país por onde viaja, mostrando orgulhosamente os ingredientes e produtos locais.
Journey Beyond Rail's Indian Pacific oferece travessias épicas e transcontinentais entre os oceanos Índico e Pacífico. A viagem mais longa, uma viagem de quatro dias de Sydney a Perth, segue o caminho dos pioneiros do mato, garimpeiros da corrida do ouro e aventureiros lendários, enquanto a opção ferroviária mais curta é uma viagem panorâmica de dois dias de Sydney a Adelaide. O serviço chique e privado de transporte do presidente evoca a era dourada das viagens ferroviárias, com sua refeição completa, acesso ao exclusivo Platinum Club e serviço dedicado.
Gostaria de conhecer nossas oportunidades de imóveis internacionais? Entre em contato com a Bossa Nova Sotheby's e fale com nossos consultores.
Adaptação | Reside